DXCAT v1.2
Interface with the ICOM 756
Description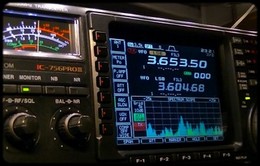 DXCAT is a program dedicated to the Icom© 756 Pro III. It is a CAT system computer control program which enables you to have a total control on your transceiver. This program is not shareware but a donation would be appreciated. For those who are interested, the source code will be available on request. The donation is $25 or €25 via Paypal. Do not forget to drop a few lines on my guestbook, thank you. You will find it at the bottom of this page. Do not forget to mention your name and the name of the program you vote for.
Why this program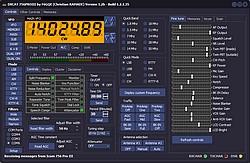 A few weeks ago, I decided to resume amateur traffic and bought an second hand (but as brand new) Icom 756 Pro III. This gave me the opportunity to write this program. The purpose was not to make traffic through the computer, i would have bought a DSP transceiver, but to facilitate the operations which would need to open and read the user's manual. I mean programming the frequencies and keyer memories for example. Of course, it is always a good idea to open the user's manual but the fact is... So this program will enable you to switch frequencies, modes, filters. To look at the programmed memories, modify them, add new ones. Same thing for the keyer memories which will be programmed as fast as you can type on your keyboard. You will be able to monitor the DX-Cluster and switch instantly to the DX frequency as announced.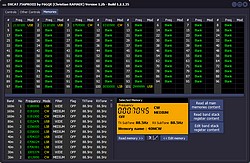 Purpose of the program
But the main purpose of this program is not to make traffic through a computer interface. What I wanted to is an easy way to access and program the different memories (main and keyer) without going through a painful process. As you can see on the picture on the right, all the memories are displayed, including the band stacking register content (the memories attached to the front panel buttons. Three values per button for each band). All these memories cans be viewed, edited, modified on the fly with a simple click. No need to look for the user's manual, I did it for you. You can also check the state of all the commands including the data send and receive commands. At least you can discover all the secret resources of the transceiver.
Download DXCAT here (in a few weeks)

View/Sign my Guestbook
Voir/Signer mon livre d'or